Gaming
Level up your casual gaming skills with a pro controller
I'm a little older, and my reaction time is a little slower, but I can claw some of that back with a bit of button mapping and retraining. Casual doesn't have to mean settling for the stock option.
I'm a little older, and my reaction time is a little slower, but I can claw some of that back with a bit of button mapping and retraining. I believe Scuff was the first on the scene to introduce additional buttons on the back of the controller, which to me, is what starts to separate a typical controller from a "pro" controller. Since then, we've seen improvements from them and new controllers from Microsoft, Razer, SteelSeries, Astro, and, most recently, Sony (finally). At this point, these controllers are so good that I cannot play any game without them. This isn't a review but rather my experiences with the controllers I own and use on each gaming platform, my setup, and perhaps some of the factors to consider before spending Pro money.
This controller set the standard for high build quality and customization for console players. I've owned the Elite 1 and the Elite 2. I'm on my second Elite 2, as my first one's RB button no longer works consistently after a couple of years of moderate use. While they are high-quality controllers, durability has been an issue for me. With the Elite 1, the grip was so worn down that I bought new parts from Scuff to give it new life. That's less of a problem with the Elite 2, thankfully. However, the fact that I bought another one when my RB started to act up shows you how valuable this controller is to both my enjoyment of playing to my ability to be competitive in shooters or any game that gives you an advantage for keeping your thumbs on the sticks. This has been, and will likely continue to be, my go-to controller for Xbox for the foreseeable future, but it has some new competition from Razer that is changing my mind.
Overall thoughts
Great for small or medium hand sizes, with plenty of room to experiment with your grip when using the paddles. I've changed my grip several times, moving from 2 paddles to 4.
Works with every platform, wirelessly or wired, except Playstation. From Xbox to PC, to iPad and Mac, to GeForce Now (app or Chrome), you are well covered with no drivers required.
Great physical customization, with replaceable thumbstick tops, adjustable triggers travel, and completely removable paddles.  
Software customization via Xbox and Windows accessory app, with devices memory and profile switching on the fly. The color of the Xbox logo can be customized as well per profile.
Weighted, premium feel. Quiet.
Button wear has been an issue for me. Less tactile bump/feedback as time goes on, including the paddles. Very noticeable after purchasing my second Elite 2. Not repairable.
My shooter profile and setup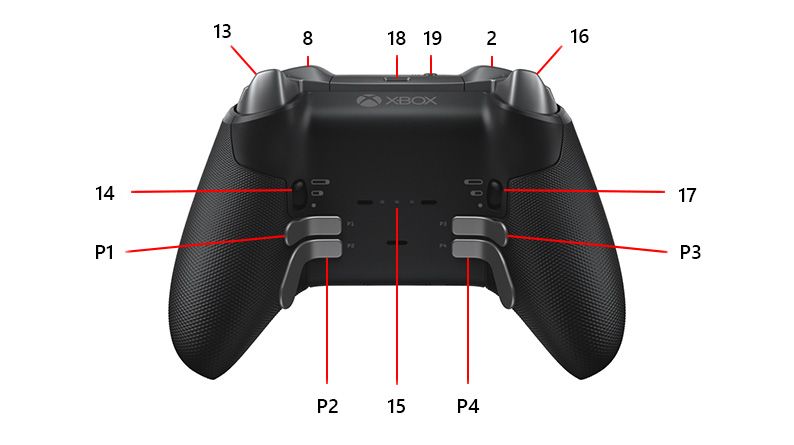 P1: B, P2: A, P3: LS, P4: X
I've owned the V2 Chroma for PC for quite some time, which I've used exclusively with my PC instead of my Elite 2. I'll start by saying this controller is not for everyone. For shooters, seek no further. Lightweight, clicky tactile response on all buttons, four fixed back buttons, and two other mappable bumpers, you'll never take your thumbs off the sticks. The V2 Chroma is wired only, so you'll need to remain tethered, which makes it a less ideal option for playing Xbox on your couch. With PC, however, I prefer to wire my controllers anyway, so this has been my go-to for a while now, but it took some getting used to, as the grip is slightly different.
Overall thoughts
It's a large controller suited for larger hands. I have medium-large hands, which still works well for me, but others may not like the grip if you're used to an Xbox controller. Even worse if you are used to a PlayStation controller.
Works only with PC and Xbox via a USB-C cable.
Ok, on Xbox, but terrible on Windows. The software customization app is clunky and not well designed. Thankfully you don't need to use it often. I wish Razer would integrate their controllers into Synapse.
Replaceable thumbstick tops with different sizes included and adjustable trigger travel. Has vibration.
It's lightweight, buttons and sticks perform consistently, and it's clickly.
It's inexpensive compared to others, which makes it a great pro controller for PC.
My Shooter profile and setup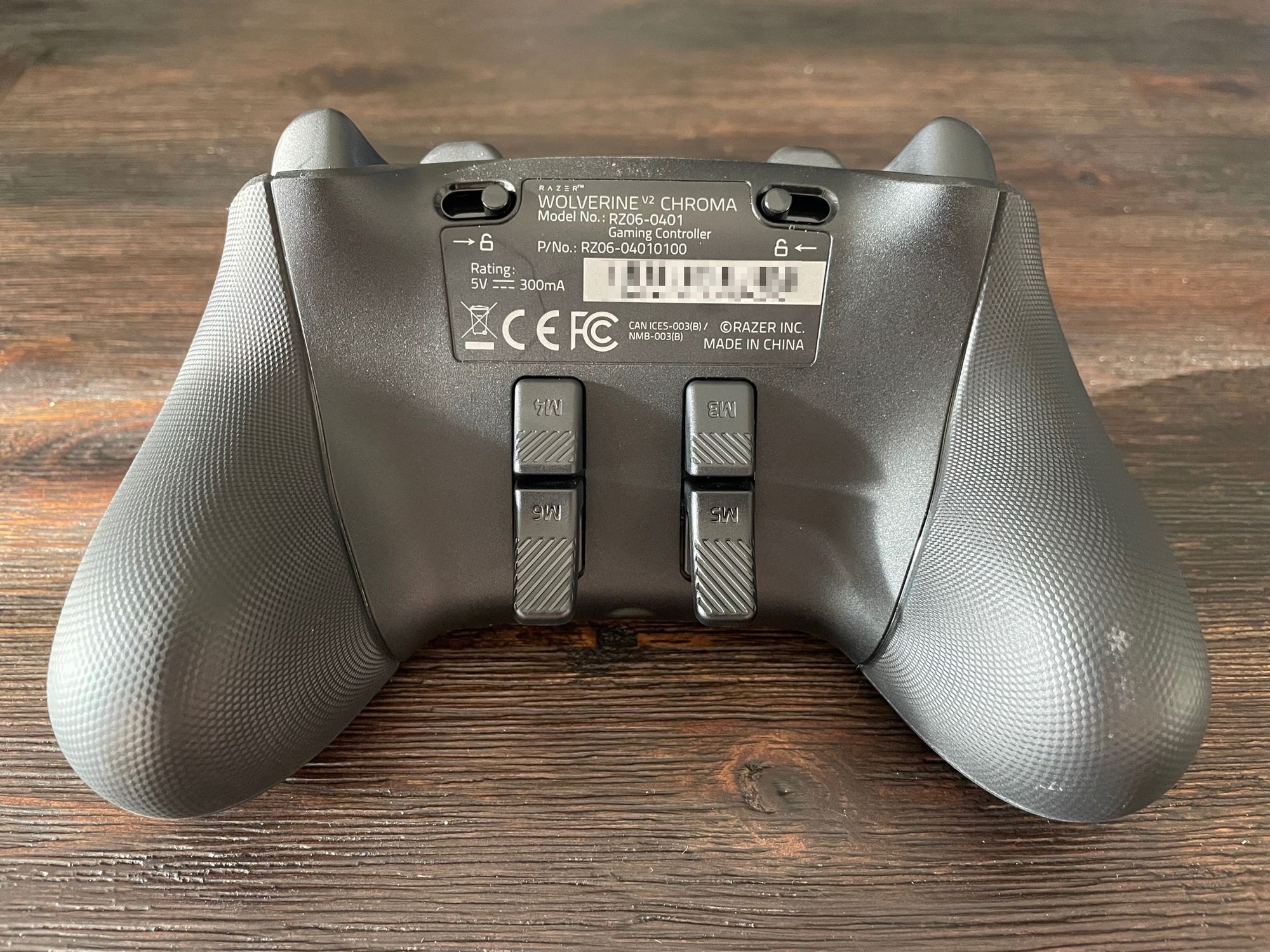 M1:RS M2: Y, M3: LS, M4: B, M5: X, M6: A
It's brand new, and as of 2/2023, it's officially licensed for PS5 and wireless. It feels exactly like the Chroma V2, with the same set of remappable buttons and thumbstick heights. That made it easy to adopt, and I've been playing more games on the PS5 since the controller arrived. Unlike the Scuff Reflex Pro or the DualSense Edge, the stick layout of the Wolverine v2 Pro is diagonal, like the Xbox controller, which I find infinitely more comfortable. I've owned previous Scuff pro controllers for PS4, which I still feel is the best option if you want the inline stick layout. This is my go-to PS5 controller for shooters, mainly Destiny 2.
Overall thoughts
The same grip and button layout of other Razer controllers is the same as the V2 Chroma.
Works with PC and PS5 wirelessly with the included dongle or wired via USB.
You configure it with the Razer Controller app, pairing your controller to your phone via Bluetooth. It works, but like all Razer controller apps, it gets the job done, and I hope to use it as infrequently as possible—a step up from the Chroma app.
No ability to adjust the sensitivity curve of the thumbstick. An expected feature of a pro controller could be a deal breaker for some.
Replaceable thumbstick tops with different sizes included and adjustable trigger travel.
It's lightweight, buttons and sticks perform consistently, and it's clickly.
It's officially licensed by Sony but doesn't have all of the features a DualSense would. No adaptive triggers and no haptics or vibration. This is for shooters only, IMO.
It's now the most expensive controller I own and, I believe, the most expensive of the leading brands in the Pro category. I see this as an add-on and not a complete replacement for a DualSense controller, which could make this an expensive and niche accessory for most.
My Shooter profile and setup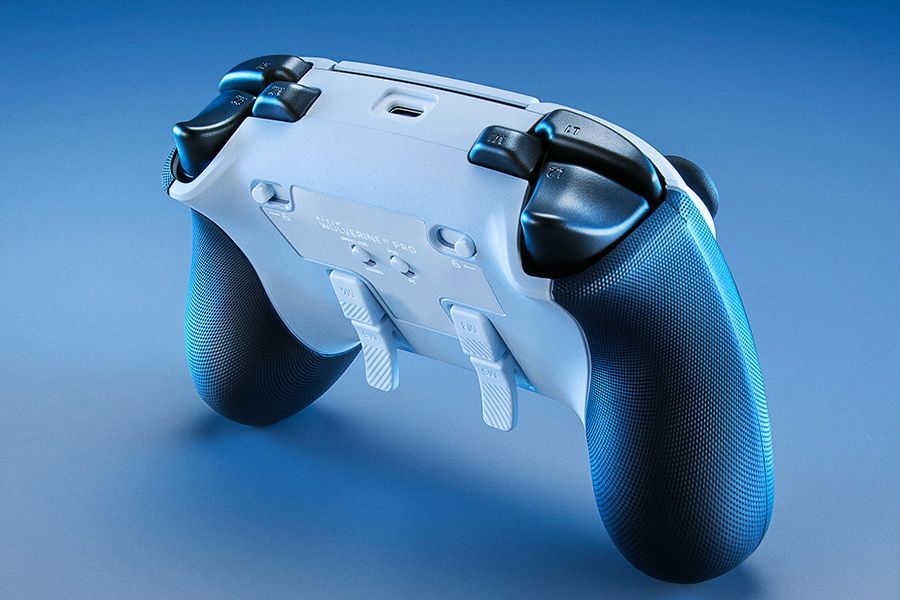 M1:RS M2:▲, M3: LS, M4: O, M5: 🔲, M6: X
Skip the regular DualSense and get this instead. It's more than twice the price, but for nearly every PS5 game you play, you'll be glad you did. This was an impulse buy for me, and I made one critical error. I assumed there would be four mappable back buttons, you know, since every other pro controller has that, but alas, there are only two. That led me also to purchase the Wolverine V2, and I was planning on returning this. After using it, however, I've reconsidered, as this is my controller of choice now for all non-shooter games on PS5. It has all of the DualSense features, plus two back buttons/paddles and a premium feel. It's the Elite controller for PS5. The two back buttons are an excellent addition to games like God of War, Horizon, Hogwarts, etc. You still get the adaptive triggers, vibration, and mapping customization you might miss on the Wolverine v2 Pro.
Overall thoughts
The best DualSense controller you can buy, with most of the pro features you would expect in a premium controller.
Well-designed configuration app, with the ability to save multiple custom profiles and switch them on the fly via the dedicated buttons on the bottom of the controller.
The most customizable of the bunch, customize and remap all buttons, adjust the trigger effect, vibration intensity, stick sensitivity,  and stick deadzone.
Like the Elite, it includes a case with a pass-through charge flap, thumbstick height options, and two rear paddle options. Also includes a unique cable lock to prevent the USB-C from being pulled out when wired.
It's quiet, heavier, and has non-slip grips. All nice upgrades from the stock DualSense.
So close to being the perfect PS5 controller, if only there were two more back buttons.
The battery life is terrible, like all DualSense controllers. Have a charging cable nearby.
My shooter profile and setup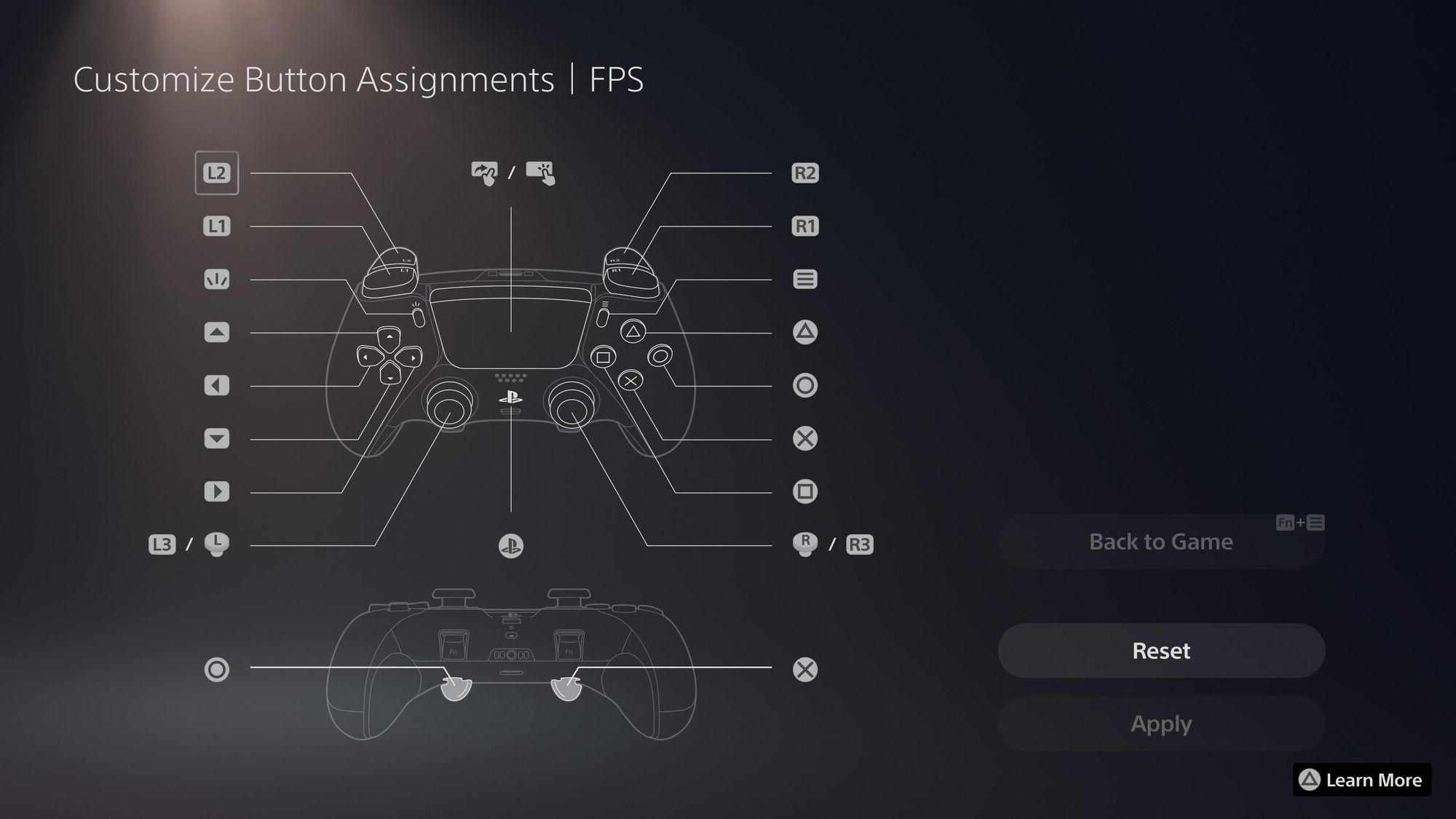 BR: X, BL: 🔲
Conclusion
Casual doesn't have to mean settling for the stock option. If you play with a controller on any platform, it's time to go pro. After some customization and retraining, you'll be glad you made the leap. If you're a PC and PS5 gamer with the occasional shooter, go for the DualSense Edge. If you are all about shooters, go for the Wolverine V2 Pro, or check out the Scuff Reflex Pro/FPS if you prefer the Playstation stick layout and grip. For Xbox and PC, the Elite 2 is still my favorite all-around choice. If you are PC only, consider the Wolverine V2 Chroma, which has more mappable buttons than the Elite 2, and you'll save some cash.